Testimonials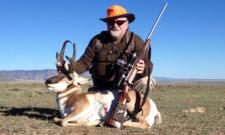 Jay Hunt
Antelope 2011-2013 - Slidell, LA
The highest praise that I can give to any hunting outfitter is my return business. Plainly stated, I won't hunt twice with a poor outfitter. I hunted three consecutive years with JT and his fantastic guides. Each year I took a nice antelope, but in 2013, I took an SCI record book antelope! It was a great hunt that involved a stalk of over 700 yards on a herd. In 2014, I didn't draw for elk, but I have for 2015 and I will be hunting elk with JT and Billy this fall. Thanks guys for treating me like family!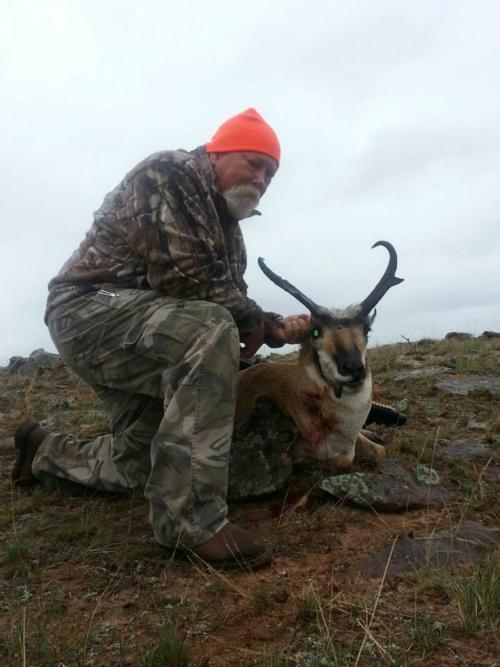 Jimmy Williams
Fall 2013 - Cocoa Beach Fl.
I have been blessed to have hunted around the globe, and I will tell you that J.T. Nunn's operations is the best I have ever used. From the time I arrived until the day I left everything was first rate. My guide was outstanding, I never felt pressure to shoot the first antelope we saw. I know that he would have kept going if I was not happy with what I saw. The quality of the animals we saw was fantastic. I would recommend that should you bag A antelope (as I did) that you would allow J.T. to use his special marinade and cook one or both of the back straps, I don't think you will taste a better cut of meat in your hunting life time. I will be back with Bar Nunn hunting and I hope his son's will be old enough to guide me then. Those two boys are already established hunters in there own right that I would be proud to hunt with anytime.
Danny Hudson
Fall 2012 - Deridder, LA
J.T. and staff at the Bar-Nunn have developed perhaps the greatest North American hunting experience available in the outfitting market today. The entire team is hunter focused and committed to excellence, and the trophy antelope population is astounding. Accomodations, professionalism, and hospitality are second to none. Give them a call and book today.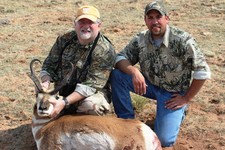 Jay Hunt
Antelope 2012 - Slidell, LA
This is our second season hunting with the folks at Bar-Nunn hunting. This year, three of us made the long trek to Laramie to hunt with JT and his fine guides. All three of us took very nice antelopes on the first morning. I can recommend Bar-Nunn hunting without any reservations at all. They are great folks who treat us like family! Thanks, guys.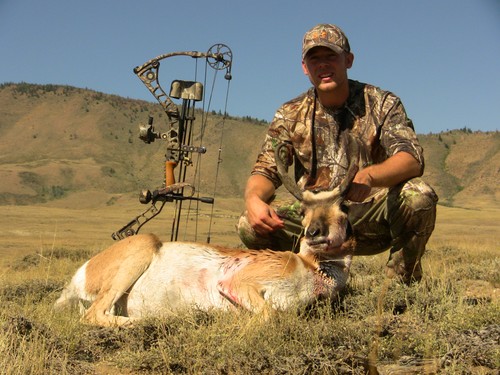 Clynt's Wyoming Antelope Hunt
My first experience at Bar-Nunn was unreal. Great hunting and great people. We had an absolute blast with the Nunn Family. Can't wait to come back next year and go after an elk!
Clynt Kistler
John A. Holzschuh
I have hunted at the Bar Nunn Ranch for the last 10 years. J.T. Nunn and his staff have provided me with excellent hunting opportunities. My success rate has been 100%. I have taken a 6 x 6 bull elk and trophy mule deer. This fall (2009) I will be hunting antelope. Once again I'm looking forward to a successful hunt.
John A. Holzschuh
Greg Curry
I have been fortunate to hunt elk and antelope with "JT and company." JT is determined and focused on helping you to be successful. He is hospitable and will make sure that you have a positive hunting experience. There are ample big game opportunities on the property he hunts. To me, one of the most important aspects of any hunt is the relationship you develop with your guide and the outfitter. It has been a pleasure to meet and hunt with him and all of his guides. The friendship we have developed keeps me coming back to hunt with him each year. I highly recommend him if you want an outstanding Wyoming hunt. You will not be disappointed.
Greg Curry
Atlanta, Georgia
Ed O. Jackson
"If you are looking for an outfitter that goes the extra mile to provide a truly great hunting experience, I highly recommend that you book your trip with JT Nunn at Bar-Nunn Hunting. I have found JT and his guides to be totally ethical, very knowledgeable of the game and all are personable and professional. They cater to the individual needs of their clients to ensure a safe and memorable trip. This is a family run operation that works hard to make you feel comfortable and offer you the opportunity to take trophy animals in a fair chase manner. My own personal success rate in the years I have hunted with JT is 100% and all are quality trophies. JT, his family and guides all do a great job and are a real pleasure to be around. Give them a try - you will not be disappointed."
Ed O. Jackson, TN
Jerry Boman
We have hunted antelope and elk with JT at Bar-Nunn Hunting and have been succesful on all hunts. We also had the opportunity to shoot prairie dogs at Bar-Nunn and had a great time. I would highly reccomend Bar-Nunn Hunting services. Anyone can call me for a reference: 260-349-5206
Jerry Boman
Kendallville, IN
Mark Nethery
I have hunted with Bar-Nunn hunting for ten years and we have always had great and successful hunts.
Mark Nethery
Bluegrass Game Calls
Louisville, KY
Tadd Auburn, IN
The Bar Nunn Outfitters showed me quantity and quality world class animals, they also put me in range for the shot. The Elk hunt was one of my most physical hunts and also my most rewarding Elk hunts ever. They worked hard from the first to the last day of the hunt. These guys will literally hunt from sun up to sun down and have a full course meal waiting for me in camp. Bar- Nunn used first class camp gear, Cabela Outfiiter tents, big man's cots and my favorite deluxe camp chair which is a true luxury item after a long day on the mountain. I have been on two different Bar-Nunn hunts and I plan on a third hunt in the fall of 2010. The camp and hunt memories that I experienced with BAR-NUNN HUNTING will be with me for a lifetime.
Tadd Auburn, IN
Dann C.
This year(2009) will be my 5th year of bow hunting antelope in Wyoming with Bar-Nunn Hunting. J.T. and Kristi are wonderful hosts and the hunting couldn't be better. I look forward to another year of beautiful scenery,great friendship,and outstanding bow hunting.
Dann C.